How a Joke Turned into a $4,000 Purchase on Alexa in Five Seconds

Alexa enables us to make seemingly small but long-term massive purchases quickly — even when we're playing board games.
Photo by Marco Verch – Creative Commons license
—–
"Would you like to purchase Amazon Music starting at $4 per month cancel at anytime?"
"No," I said.
"Stop," my friend said. "Alexa, yes."
"Your Amazon Music subscription is now purchased. Now, playing 'Despacito' by Luis Fonsi," my friend's Alexa Echo said from the corner of the living room.
Well that escalated quickly.
Just a few seconds earlier, we'd been locked in an intense game of Battleship. When there was brief lull in the game, I wanted music, and jokingly said, "Alexa, play 'Despacito.'"
And now my friend had purchased it. But it wasn't a $4 purchase. It was much greater.
A Long Term Investment Made in 5 Seconds
Think about it. The first month is just $4. Then it's $8 every month after that. She'll probably forget she has the subscription or she'll start listening to music all the time on her Alexa. After a year, it's $84. Imagine she has it for the next 40 years. That's $3,840 (if the price stays the same, it'll probably become more expensive with time).
My friend made a $4,000 purchase that I unknowingly started as a joke. And she made it in about 5 seconds.
That's the purchasing power of Amazon Alexa.
As Gary Vaynerchuk has noted, Alexa's appeal comes from its frictionless purchasing. Nowhere was that displayed better than a seemingly small but potentially (and likely) massive purchase that took place before I could even call out "B5."
If you sell products or have clients who sell products, then you must become familiar with Amazon Alexa.
This year, Alexa will drive $10 billion in sales, according to RBC Capital Markets.
Start getting in on the action today.
The fastest way in is through an Amazon Alexa Flash Briefing.
Effct makes it easy to start your briefing, which normally is a hard process requiring coding. You can be up and rolling in a matter of minutes, leading you and your clients to tap into some of the $10 billion on sales Alexa will create this year.
People are spending more time at home, and doing things like playing board games and cooking. That means they're talking with their smart speakers more and more, and increasing their purchases.
I went on to lose that game of Battleship, but I learned a valuable lesson.
Amazon Alexa is a massive battleship, and no one will sink it.
And few people are taking advantage of this lead generation opportunity now. It truly is a battleship on a blue ocean.
Start driving sales through Alexa by clicking this link for a 14-day free trial of Amazon Alexa Flash Briefing created in seconds with Effct.co. 
Talk soon,
Nick Brown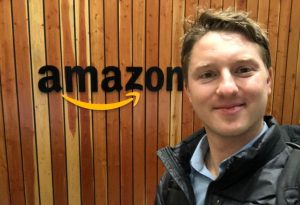 Nick at Amazon HQ following a 2019 meeting with the Alexa team